WELCOME TO HENLEX HOTEL AND RESTAURANT IN POZNAŃ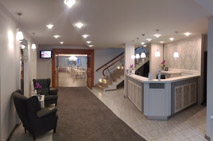 Welcome to a 3-star superior Hotel Henlex located in the high-quality residential area of Poznań-Szczepankowo.
Very convenient location will allow you to get onto the expressway leading to the Fairgrounds and the city center (about 15 minutes) as well as onto the A2 motorway (5 minutes). Our guests can enjoy free, enclosed and monitored 24/7 parking lot containing parking spaces for coaches.
BOOK A ROOM IN OUR HOTEL
HENLEX HOTEL POZNAN - CONTACT
Henlex Hotel and Restaurant
61-312Poznań
ul. Spławie 43A